Genera and Species Descriptions with cultivation techniques
Loading........ please wait
Byblis
This genus contains several species that resemble Drosera plants in many ways, although their zygomorphic flowers indicate they are not quite the same. They are herbs having long narrow leaves with mucilage-secreting glands on short tentacles. A common name used for these plants is Rainbow Plant, although it is not in frequent use among CPers. This name supposedly derives from views of spectral colours being refracted in the digestive droplets - a simple enough effect that can be seen in Drosera, Drosophyllum, and Pinguicula if the viewing geometry is correct. Prey-related motion is minimal.Also the Byblis genus has the peculiarity of having young leaves rolled outwardly rather than the usual inwardly as seen in ferns.This peculiarity is only shared with Drosophyllum.The plants consist of an upright stem which is also covered in carnivorous glands and narrow,linear leaves that are arranged radially along the length of it often at an acute angle.The purplish flowers appear toward the top of the stem in bunches when the plant becomes mature.The method of capturing prey is very similar to that of Drosera and Drosophyllum.Glands exude a sticky fluid which holds an insect in place once it makes contact.The insect eventually dies and is digested by digestive glands.Byblis does not seem to produce as much sticky fluid as Drosophyllum,probably because most species grow in a tropical climate with a high evaporation rate.Due to limited water supplies the plant would be at a serious disadvantage if it produced large amounts of sticky fluid.Byblis seems to rely more on the actual stickiness of the fluid to secure insects.There are several species of Byblis with many being described fairly recently and are centred around Northern Australia which has a tropical climate.The largest species in the genus ,the appropriately named Byblis gigantea grows in coastal South Western Australia.It grows further south than most species,in a temperate climate.There is one other species that grows reasonably close to it and that is Byblis lamellata.
Cultivation (B.Gigantea)
Pot plants in a compost of equal parts peat moss and coarse sand. Byblis gigantea, likes subhumid warm temperate conditions. It is an erect plant with a strong base that can grow to a height of 60 cm (24"). It has slender triangular leaves up to 24 cm (10") long, and bears numerous lilac-purple flowers, with bright yellow stamens, during all of the summer months. The flowers open in the warmth of day and close at nightfall. This plant enjoys drier conditions than many other CPs. Most failures of this subspecies in cultivation seem to be caused by keeping the compost too wet. By using the following method, you should be able to grow this plant successfully. Use a 150 mm (6") pot and line the drainage holes with Sphagnum moss. This acts as an indicator while retaining the potting medium.The pot is watered by placing it in 25 mm (1") of water for about half an hour. Then remove the pot and place it on the bench. By monitoring the colour of the Sphagnum moss, you will know when to re-water it. As the pot becomes drier, the moss will get lighter in colour, but do not allow the pot to become too dry as the plant may become water-stressed. Place the pot back in the water as necessary, always removing it to drain after about 30 minutes. On reaching maturity, the plants will flower: if you wish to collect the seed, the flowers need to be cross-pollinated. Using a small brush, collect the pollen from one flower by tapping the anthers to make them release their pollen. This can be collected from the petals and transferred to the stigma of another flower, the pollen of which may, in turn, be used on the first flower. Seed is exceptionally difficult to germinate, but some success will be achieved by placing the seed in a container and pouring boiling water on it and allowing it to soak overnight before sowing it on the same moist potting medium as the parent plant. See also the section dealing with smoke treatment of seed on the progagation page. At the end of the growing season, this species will start to die down, at which time the pot should be allowed to dry out completely. At the start of winter, the pot should be re-watered using the above method, taking care not to allow the potting medium to become soggy at any time. This would probably result in the death of you plant. Watering may be necessary every day in hot weather, whilst in cooler weather, every few days will be adequate. Byblis Gigantea is a perennial plant. It may be grown from root cuttings or stem cuttings. Seed can be difficult to obtain. If the above method of seed preparation with boiling water is unsuccessful a fire treatment can be tried. This involves placing a bundle of loose dry grass over the seed in its pot and lighting the fire, making sure that the grass is fully burned. It is uncertain at this time whether the heat from the flames or the chemistry of the smoke is the triggering mechanism. Treatment with gibberellic acid is another possible solution to the germination difficulty. Use 1 gram (powder or tablet) or 10 ml of gibberellic acid liquid (Pro-Gibb G.A. from Schering Agrochemicals) to 1 litre of water. The liquid Pro-Gibb gibberellic acid has been found to give best results. Another commonly cultivated Byblis,B. liniflora is usually an annual, comes from the tropical north of Australia, and prefers humid tropical conditions, growing in wet sandy environments. It is an exceptionally pretty plant that grows to approximately 20 cm. in height, with many lilac flowers. This plant produces plenty of viable seed, and is easily grown by this means. Some clones require cross-pollination to set seed.
Cultivation Summary (B.Gigantea)
Pots - 6 inch
Compost - two parts river or propagating sand and one part peat
Climate - Temperate
Light - Full sun
Water - keep compost moist,not wet,dry out in summer
Propagation - Division of rhizome
Cultivation Summary (tropical species ,such as B.liniflora)
Pots - 4-6 inch
Compost - two parts river or propagating sand and one part peat
Climate - Tropical (average temperature 25-30C)
Light - Full sun
Water - keep compost moist,not wet.
Propagation - Seed
Notes - Make sure to collect seed as some species are short lived.
Cephalotus
The one species in this genus, Cephalotus follicularis (the Albany pitcher plant), has a natural habitat restricted to a small region of south-west Western Australia. The plant is remarkable in the shape of its pitcher leaves.They are complex and intricate. Each pitcher is shaped like a small pouch, similar to the flowers of Paphiopedilum or Cypripedium (lady slipper orchids). The pitcher contains a bath of digestive fluids, and there is some opinion that this plant specialises in trapping ants. It is found in paddocks, near slow-flowing streams (and is often trampled by cattle). This plant is now rare and on the endangered species list, mainly because of habitat destruction and 'heavy harvesting' in its native area. The Albany Pitcher Plant has pitchers that grow to approx. 5-8 cm (2") long, and also has small non-carnivorous leaves. It has two ways of catching insects: 1. Flying insects are attracted to the pitcher but are fooled by the reflective light from the fenestration on the lid, and fall into the liquid, not knowing which way leads to freedom; and; 2. Crawling insects on the ribbed rim lose their grip on the slippery surface and fall into the pitcher. Spined ribs point downward on the inside of the rim and their menacing points do not allow escape. The whole plant is approximately 15cm across when mature and produces relatively huge flower stalks (approximately 60cm) in spring which have numerous small(5 mm) unattractive white flowers on them.The roots are thick and can withstand periods of drought.Should the plant be burnt from a scrub fire it will regenerate from the roots.
Cultivation
Cultivation is often difficult if its basic needs are not provided.The main thing to remember with Cephalotus is that it grows in fairly dry conditions compared to a lot of carnivorous plants and is very well adapted to deal with drought.So making sure your plant is not too wet is very important.Many growers use live Sphagnum in moist conditions. A 50/50 mixture of peat moss and coarse sand has been found satisfactory. Occasionally the plant becomes dormant - after a few to several months later, new growth will appear. Never allow Cephalotus to sit in water during winter - the long fibrous roots are likely to rot if this happens.You can water the top of the pot once a week at this time.In summer the plant will tolerate more water but it is not necessary. Use a 150 mm (6") full depth plastic pot - this allows enough room for the plant to expand. Propagation is a simple matter. Older plants may be divided when the pot becomes crowded. Root cuttings and leaf cuttings are usually successful. A large plant may be uprooted and a few roots removed, always leaving enough roots on the plant to support it. It is a good idea to remove a few of the larger pitchers and leaves at this stage to reduce the transpiration rate and compensate for the loss of roots. For root cuttings, pot them in a compost of 1:1 peat and coarse sand, cutting the roots into lengths of about 10 mm and covering them with 3 mm of the potting mix. If more than one plantlet forms on a root, it is a simple matter of further cutting that section of root and potting the pieces separately in the recommended potting mix. For leaf cuttings, pull non-carnivorous leaves carefully from the plant, rather than cutting them. Pot these leaves into live Sphagnum, placing about 3 mm of the leaf stem into it. Place a plastic dome over the pot to maintain a humid environment. When plantlets have formed they can be potted as for the parent plant. The hot weather of summer can be a problem also. If the root system is subject to high ambient temperatures, especially if the pot is subject to direct sunlight, the root system initially will be killed, shortly followed by the whole plant. It is recommended that a cool and shaded environment is chosen for the plant during summer. One way of growing Cephalotus follicularis is in a hanging basket, because this allows the plant to remain moist without being wet. The pitchers will remain green if the plant is in shaded conditions, but will redden when the plant is given more sunlight. As the leaves or the pitchers die off, they become a yellow colour, then brown - and should be removed at this time to reduce the risk of disease. Although the lid of the Cephalotus pitcher doesn't move to trap its prey, it will slowly become nearly closed when the humidity is very low. This is to help prevent unnecessary evaporation of the digestive liquid contained therein.
Cultivation Summary
Pots - 4 - 7 inch depending on the maturity of the plant
Compost - 50% sphagnum peat moss and 50% washed sand
Climate - cool temperate
Light - full sun to mostly shade
Water - Keep moist but not wet.Never sit the pot in water in Autumn,Winter or Spring.In Summer you can sit the pot in 1cm of water but it is not necessary,you may continue to water from the top of the pot at this time.
Propagation - Easy to propagate - division of rhizome,leaf cuttings and seed works well.
Darlingtonia
Another of the pitcher plants, this species (Darlingtonia californica - the only species in the genus) grows in the mountains of the pacific north-west of USA - northern California and Oregon. It is commonly known as the Cobra Lily - due to the cobra-like head and fangs at the top of the pitcher.The main technique the plant uses to trap insects is the pitfall method which is used by all pitcher plants.However Darlingtonia has its own special variation on that. The cobra like head which is so evident is used to deceive insects into trying to escape through the numerous windows on its upper surface where there is more light.Most insects are attracted to light so end up using a lot of energy trying to get out that way.Eventually they tire and fall to the bottom of the pitcher into liquid where they drown and are eventually digested.The entrance to the head is located near the bottom of the head in the shade so as to remain as dark as possible.The "Fangs" of the Cobra Lily serve the purpose of attracting insects as they are generously covered with nectar,they also provide a convenient landing place for flying insects.Overall a very efficient and beautifully designed trap with many features and no moving parts! The pitchers can be up to 70cm high and grow in a rosette from a rhizome.The flowers which are pinkish coloured, resemble Sarracenia flowers and appear in spring.Darlingtonia is closely related to Sarracenia but does not grow in the same habitat.
This plant is not threatened, but its small range means that logging and development may cause problems. Field collection occurs but may not be a significant problem to the species. Cultivation is difficult, as it expects cool conditions, especially cool roots, high humidity, and a long cold-weather dormancy. The suggested planting medium is live Sphagnum. The plant produces long stolons under the surface of the Sphagnum compost. When growth of pitchers, together with a root system are developed from a node on a stolon, this portion may be cut off and potted separately to create a new plant. Propagation by seed is successful also. Watering by having the pots sitting permanently in a water tray has been found satisfactory. These highly prized and unique plants are a must in any CP enthusiast's collection. Their incredible bulbous heads and snake-like fangs on top of the twisted stems immediately capture a person's attention and interest. Needless to say, much time can be devoted to ensuring one's plants are in their best health, and due to their relative rarity, much concern is expended over what we are doing is best for the plant. For the perfectionist, a cobra should have 14 hours of cool bright light, good air movement with humidity above normal, and its roots constantly washed by underground cool water seepage that has a temperature no warmer than 17ºC. Fortunately, cobras are reasonably hardy and fairly forgiving, allowing us, with a few improvisations, to have reasonable success with these plants. Definitely the first major requirement to consider is how to ensure a cool root system, hence the tendency to terracotta pots and not black plastic. Terracotta can be kept cool by frequent wetting on the outside. Another method, where plastic pots can be used, is to make a sleeve of cotton material to surround the pot. The material must be fixed fairly tightly and securely around the top of the pot, and the sleeve must be of sufficient length to be folded under the bottom of the pot. Thus, when this cotton-covered pot is sitting in the water tray, water will be absorbed by the cotton, by capillary action, and this will be continually evaporated by the warm conditions around the body of the pot. The air between the cotton cloth and the body of the pot will be cooled by this Coolgardie Safe action, and so keep the pot relatively cool.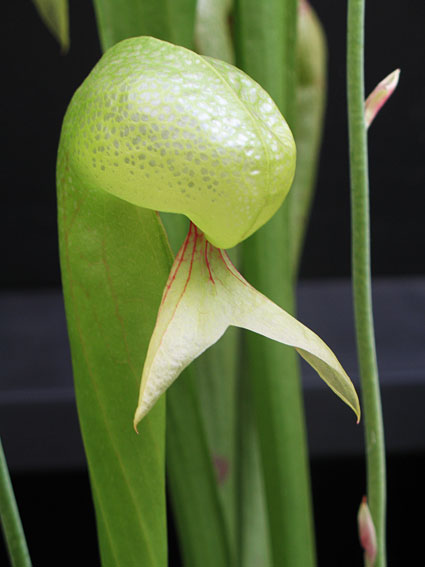 It should be remembered that most of the root system will tend to be close to the outside of the Sphagnum potting medium and near to the actual pot. A further method is to place the cobra pot in a poly-foam container - the ones you can obtain from a greengrocer. The poly-foam box is them filled with live Sphagnum moss and the whole lot watered regularly. The pot temperature (and those sensitive roots) will be kept quite cool by this means. The ambient temperature above ground can be up to 40ºC (>100ºF) for a while without causing any detrimental effect on the plant as long as the root system can be maintained at its usual much lower temperature. Another idea is to water the pot frequently from above on very hot days with the water from recently melted ice cubes. This would be essential if the grower is foolish enough to have the pot in direct sunlight on such days. It is much more sensible to move the pot, together with its tray of water, to a cooler shaded location when it is hot. In the winter the water tray is less necessary and may be dispensed with by allowing the Sphagnum to be a bit drier and watered from the top of the pot. Repotting is required no more often than every third year. However, a three year old plant may be sending out runners (stolons) by that age and repotting will be necessary to provide extra room in the pot. These stolons are similar to those of couch grass (pardon the comparison) and travel underground from the parent plant up to 40 cm (16"), where they may surface and their ends establish new plants. The main growth period is from October to May (in Australia) - our normal spring to autumn. Stolons begin to grow about new year and new growth from early spring. The first leaves tend to be abnormally vigorous and a three year old plant 10 cm (4") tall can suddenly grow to 30 cm (12"), followed by two or three more slightly smaller pitchers. The thickness of the base of a new pitcher will give a good indication of how tall that pitcher will become. The pitcher grows to full height first, then the head and fangs blow out to their full size, and the tube of the pitcher undergoes a 180º twist. Flower spikes appear in late spring. The 'nodding' flowers, hanging down at the top of 60-100 cm (24-40") stems. The flower buds are enclosed in five pale green sepals that open widely to reveal the pretty flower. In the typical form of this plant the five petals are a deep red to burgundy colour. There is also an albino form having white flowers. The petals become much narrower near the bottom of their length, so that there appears to be holes between them near the lower end. Spring is the time to be particularly vigilant, for pests and grubs can cause havoc on the young tender growth. It only takes a very small hole on a developing new leaf to completely ruin it, for the hole grows with the pitcher. Cobras are sensitive to many insecticides and fungicides, so use caution here. Half strength trials are wise. Do not use Carbaryl on cobras. Rogor insecticide appears to be fairly safe on these plants. Benlate fungicide is a discontinued product due to its harmful effects. Fongarid is useful on both counts. The brown rot fungus can seriously afflict the rhizome, and its presence may not be noticed until the pitchers start to wilt and die. A regular spray of Fongarid every six to eight weeks will help prevent this difficulty.
Cultivation
Pots - 4 - 15 inch depending on the maturity of the plant
Compost - Good quality sphagnum moss
Climate - cool temperate
Light - full sun with a little shade
Water - sit in a tray of soft or rainwater water 3cm deep except in winter.In winter keep the compost moist
Propagation - Division of rhizome
Drosera
The Drosera genus (common name - Sundew) is a very widespread group of carnivorous plants. It contains more than 160 species, scattered around the globe - about 65 species native to Australia. Charles Darwin was absolutely fascinated by sundews and spent considerable time studying them.In particular Drosera rotundifolia which can be found in England where he lived.Sundews vary in size from 1 cm. in diameter (
pygmy drosera
) to 60 cm (24") tall or more (Drosera regia,Drosera binata dichotoma and Drosera gigantea), and grow in a variety of environments - tropical rainforests in Queensland,the sandy dry plains of outback Western Australia(
tuberous drosera
),swamps near the beach and in alpine regions.Another well known group of drosera is the
petiolaris complex
which grow in tropical Australia.They grow in all continents except Antarctica and are concentrated in Western Australia. The species bear glands (often brightly coloured) on stalks or tentacles that are scattered over the surface of the leaves. The glands exude attractive nectar, adhesive compounds, and digestive enzymes. Insects that land on the leaves stick fast and are digested. Often nearby glandular tentacles are stimulated and also adhere to the insect, and on many species the entire leaf will coil around the insect. These motions are slow, taking minutes or hours to occur, although some species exhibit faster motion - for example, D. burmanni can produce 180º of tentacle movement in 30 seconds or less. Once an insect has touched a leaf, sometimes trying to eat the sticky glue, it will become hopelessly stuck, and moves about, touching more tentacles. The leaf will probably move other tentacles toward the stuck insect, and may even curl to further engulf the insect with tentacles (ie. an active trap). Then the digestive acids and enzymes are released to dissolve the insect. Afterwards the leaf opens and the insect shell is left to blow away.
The diversity of forms in this genus is impressive. While some species grow year-round, others die back to fleshy roots or tubers during dry seasons, others survive cold weather by forming densely packed hibernacula. Some species are tall, erect or viny plants, others are ground-hugging rosettes. Other than the usual problems associated with habitat destruction, most species do not have any particular threats. Some species, especially
pygmy drosera
forms of limited range in Western Australia, have gone extinct because of land development. As expected for a genus with so many types of plants, there is no prescription for growing every species. The two temperate species D. spatulata and D. capensis are pretty-well indestructible and make good starting plants for beginners. These, and various others, will do fine in a terrarium or in open air culture using a 2:1 peat and coarse sand compost mix. You can always tell when a sundew is healthy by the quantity of sticky glue (mucilage) droplets on the small tentacles. The leaves can be a variety of shapes, with some having long and thin leaves, while others may be spoon-shaped, or like a thick wedge; all have their sticky tentacles. Sundews have beautiful flowers, some with up to 50 on a stem, but only a small number open at any one time. Some species, particularly those from South Africa, can be seriously weakened due to growth of flowers. It is recommended that flower stems be removed in such cases. Pygmy Sundews (all are native to Australia) are tiny plants about the size of a fingernail - but even at this size, they manage to snare many tiny insects. These plants have a method of spreading their species that is unique to the
pygmy sundews
. As the cooler damper months of winter approach the plants produce additional non-sexual parts called gemmae, or winter buds - formed in the centre of the rosette. Each gemma is seed-like, but is living and must reach a suitable environment for growth or it will die - just as other living plant parts would die if damaged or allowed to become dry. When removed from the plant, and placed on the surface of the compost, each gemma will soon produce leaves and roots to form an exact genetic replica, a clone, of the parent plant. The pygmies can spread rapidly across a pot or terrarium base by means of their gemmae and the usual seed production from their flowers. There are two major, quite different, types of sundews. One type has roots like most plants, and will rejuvenate each year in spring to produce flowers, after dying back in winter. The other type has a tuber underground, and dies down to exist as just the tuber during the hot dry months in Australia. Most the tuberous Drosera plants are native to Australia. When the days shorten near winter, and the autumn rains come, its active growing time starts. Generally, Drosera plants like quite a bit of sun, and don't like to be over-watered. The common name for this genus of plants, sundew, was derived from the visual effect of sunlight shining, glistening, on their gluey tentacles. One particular plant, Drosera capensis from South Africa, can be used for demonstration. If you hold the potted plant almost between the observer and the sun, you will see this beautiful sundew effect.
Cultivation Summary for some temperate species (eg. D. binata)
Pots - 5-8 inches.
Compost - 2 parts peat,1 part washed sand.
Climate - temperate
Light - Full sun to part sun.
Water - Stand pot in 1cm of water all year round.Better results are achieved by watering from the top of the pot once a day.
Propagation - Division of clumps,seed,leaf cuttings.
Humidity - moderate
Notes - do not mist leaves too often
Cultivation of pygmy drosera
Click here
Cultivation of tuberous drosera
Click here
Cultivation of Petiolaris complex drosera
Click here
Drosophyllum
The Portuguese Sundew, Drosophyllum lusitanicum(the only species in the genus), is one of the few dry-land CPs. It grows on rocky slopes in Spain, Portugal, and the northern tip of Morocco.In visual appearance it is much like a sundew - its long whip-like leaves are covered with short-stalked adhesive tentacles. However, while the glands of Drosera hold fast to their prey, the glands of Drosophyllum mostly function to coat the prey with mucous fluid. Also unlike sundews Drosophyllum cannot move its carnivorous glands.In its struggles to escape, the prey becomes completely immersed in mucous fluid and drowns.Since the mucous fluid is strongly digestive the insect is dissolved and absorbed fairly quickly.Drosophyllum needs to do that so that the nutrients from the insect are not washed away by the rains.If the habitat of Drosophyllum recieved frequent,significant rains then quite likely the plant would not survive in the long term.The mucous fluid also has a distinct sweetish nectary smell to it and the scent of a large Drosophyllum plant is quite noticeable.Presumably the smell attracts insects. Drosophyllum can grow to approximately 40cm tall ,is a perennial and has numerous wonderful yellow flowers approximately an inch across.These appear in spring on a branching stem.The leaves are long and tapering and radiate from a central growing point.They are curious in that when growing they are rolled up outwardly which is the opposite to ferns.Byblis is the only other carnivorous plant that does this.Another interesting feature of this plant is that it is well adapted to deal with fire.In a bush fire a Drosophyllum plant will burn quickly killing off the part of the plant above the ground.However it does not burn long enough for the roots to be harmed and a few weeks after the fire it sends up shoots and starts to grow again.The plant is quite quick to burn as that is in its best interests.A demonstration of just how quickly a Drosophyllum burns is given below in the video.The plant in the video is dead however live plants burn almost as quickly.
A Drosophyllum plant being burned
Cultivation
This plant is not easy to grow for the uninitiated - but with due care the species can be cultivated fairly successfully. To germinate, the seed must be fresh. Various forms of pre-germination treatment involving gibberellic acid, boiling water, fire, scarification, and stratification have been suggested and tried, if the seed is less than a few months old it will germinate well. Another method for assisting the germination process is to nick small piece from the blunt end of the outer covering of the seeds with a sharp knife. Place them in warm water, allow this to stand overnight, and then plant about 3 mm deep in the compost. The compost should be a 50/50 sand and peat mix, in a 150 or 175 mm (6" or 7") terracotta pot. Mixing about two tablespoons of garden lime with the compost in each pot has been found beneficial. The pot should be standing in 25 mm of water only while waiting for germination and early growth of the seedling plant. Place live Sphagnum moss inside the drainage holes of the pot to prevent loss of the compost, and later on as a moisture indicator. Include some rocks in the compost too. The seed normally germinates in about four to six weeks at a temperature of about 24ºC (75ºF). Once the young plants are about 25 mm (1") tall remove the pot from the water tray and place it on the bench. By watching the Sphagnum moss in the drainage holes you will be able to tell when to re-water the pot. As the moss gets drier, it will become lighter in colour - do not let the pot become too dry as the plant may die. To water the pot, place it back in the water tray for about 30 minutes, and then return it to the bench for further monitoring. Do not water the plant from above. Remember that the pot will dry out much quicker in warm weather, and may need watering daily at this time. When the plants have reached about 100 mm (4") in height they may be
exposed gradually to some direct sunlight - do not overdo this at first; some morning sun is usually adequate. These plants grow well in a 50% humidity greenhouse without special treatment. The plants will flower in their second year of growth, in early summer. The flowers are bright sulphur yellow, about 3 cm (1.25") in diameter and stay open for only one day. Manual pollination is essential if viable seed is required. Grow only a few plants to each pot for best results. Do not fertilise. Do not transplant a specimen unless it is less than a few cm tall and you are practiced at the genus. Vegetative propagation is rarely successful. A perennial in the wild, it is difficult to maintain past two years in cultivation - just long enough to obtain seed. Also, this plant seems to die if the temperatures ever exceed 40 - 43°C (>100°F).
Genlisea
This is a genus of about 20 South American, African, and Madagascar plants related to Utricularia. The common name is Forked Trap. Auguste de Saint-Hilaire described the first Genlisea in Brazil in 1833, and named it after Stephanie de Genlis. Genlisea is generally found at altitudes of 100-2000 metres (3200-6400 ft) above sea level, although one species is found on Brazil's Mount Roraima at 2800 metres (9000 ft), in moist sandy peat soil. Genlisea is a rootless terrestrial, perennial plant with numerous green linear to spatulate leaves. They are up to 20 cm long and 9 mm wide, and appear above soil level giving little indication that below is a second type of 'leaf' that catches small creatures in a trap similar to that used for lobsters. As with the Utricularia genus, the traps are below ground - each descending stolon ends in a digestive pouch which bears two long, spiralling tubes. These tubes are slit along one side, and are arranged in such a way that creatures can enter the tube but cannot escape. The only direction they may progress is towards the digestion chamber - the utricle. Other than threats of habitat destruction, the conservation status of this genus is not known. There are up to ten flowers on a single 30 cm (12") scape. The flowers measure up to 13 cm (5") long and range in colour from purple, deep blue, pale purple to yellow. The seeds are quite large, oval shaped and up to 1 cm across, appearing almost triangular in cross-section. This genus responds to the same cultural treatments that many of the Utricularia species enjoy.
Heliamphora
The Heliamphora species - common names are Sun Pitcher and Marsh Pitcher - are fairly recent introductions to collectors. They have existed, probably, for a very long time in their native habitat of the tepuis (vertically-sided, inaccessible, high sandstone plateaus,1000-3000m in elevation) in Venezuela and Brazil. At least 15 species grow there with many only having been discovered this century. They belong to the same plant family as Sarracenia, but have a much more primitive appearance.They are probably the most primitive pitcher plants in existence with some resembling little more than a furled up leaf which collects rainwater. However Heliamphoras are really more sophisticated than that. Rain collects in the upright pitchers, as far as a slit at the front near the top of the pitcher. The sides of the pitcher then taper into the rear of the upper part of the pitcher, called the 'bell'. The bell has a very slippery inner surface that is likely to precipitate the alighting insects into the water below. At the top of the bell it tapers to a short narrow stalk on top of which is an inward-leaning spoon-shaped addition called the nectar spoon - studded liberally with nectar glands on the inside. The outside of the pitcher has some nectar glands also. So, the insect is attracted to the nectar available on the pitcher, and will frequently find its way to the most concentrated source of this food in the nectar spoon. At this point there is a good probability that the insect will slide down the surface of the bell, and if it doesn't quickly fly out of danger, falls into the water. The Heliamphora pitchers don't have digestive glands - this process is provided by bacterial action, and the pitchers are able to absorb the results. The habitat they grow in is actually harsh due to the rains washing away almost all nutrients.Even with the benefit of nutrients from insects many species produce only a few leaves each year,sometimes only one.Since very few other plants can survive in its habitat this slow rate of growth isn't a problem.
Because they grow in such inaccessible locations, the only threats posed to them are climatic changes from deforestation (which could affect rain patterns) and field collection. These are relatively new to common cultivation, so we won't list many hints. They appear to do best in moderate temperatures in the range 16 to 27ºC (61 to 80ºF) - higher temperatures combined with insufficient humidity are likely to be disastrous. There is some indication, counter-intuitive though it may seem, that tissue-cultured specimens are easier to grow. Use an airy growing medium of live Sphagnum.
The tepui environment of the Sun Pitchers is interesting. The tops of the tepuis are cool places. But, the surrounding area is tropical jungle. The frequent rain, and the evaporation of the water in the base-level jungle causes the Heliamphora habitat to be very misty most of the time. The collector must be able to provide these cool, misty, very humid and damp conditions for the plants to grow adequately. The old pitchers should not be pulled from these plants - mainly because this is likely to break the plant into two or more pieces, one of which will come away with the unwanted leaf, minus any roots it may have had otherwise. They are very brittle. The best way is to cut the old pitchers off carefully with a pair of fine-pointer scissors. Also these plants don't like change. Do not divide them in the summer. Do not divide them at all. Bigger is better, and big plants have big pitchers. Pest control of the Heliamphora species is not difficult. Scale, Mealy Bugs, and Aphids may be present sometimes. Removal of these should as for Sarracenia plants. Fungus attacks are rare, but if Botrytis is noticed spray with Fongarid. (Benlate fungicide kills Sphagnum moss and is no longer available. Do not, under any circumstances, use a copper-based fungicide - this will kill your plants.)
Five well known species of Heliamphora, are as follows:
Heliamphora heterodoxa
- Pitchers olive green up to 40 cm (16") tall, with thin red line on the rim. Flowers are pink and white.
Heliamphora ionasi
- Has a large rosette of large pitchers - up to 46 cm (18") tall, widely flared at the mouth, like a French Horn, and having a large nectar spoon. The pitchers become red with age.
Heliamphora minor
- Pitchers green or red to burgundy, depending on sunlight. A relatively small species - up to 7.5 cm (3") tall.
Heliamphora nutans
- Has pitchers 10-15 cm (4-6") long, 2-3 cm in diameter.
Heliamphora tatei
- There are three varieties of this species. var. tatei - Produces shrubby stems up to 4 metres (13') tall. Pitchers are long and narrow, flaring only at the top. The nectar spoon is wide-stalked and rather large. var. macdonaldae - Differs from var. tatei only in that the inner surface of the bell is almost hairless. var. neblinae - Has yellow-green pitchers up to 25 cm (10") tall. The flowers can be white or greenish turning pink with age. The bell is rather narrow and very long, usually equalling the length of the lower part of the pitcher.
Cultivation Summary
Pots - 3-6 inch depending on maturity
Compost - sphagnum moss
Climate - Temperate -sub tropical
Light - Full - part sun
Water - keep compost moist,not wet,water the pot from the top once a day.Never stand pot in water.
Propagation - Division of rhizome
Humidity - high
Notes - Do not allow temperature to go above 35C
Ibicella and Proboscidea
Ibicella lutea and the very closely related Proboscidea louisianica are South American weeds that have naturalised in many countries. The two plants are widely known as 'Devil's Claws' or 'Unicorn plants' because of the characteristic shape of the seed pods. It has been suggested they are carnivorous in a manner similar to the Pinguicula species - that is glandular leaves. An article on these families of plants is available on the Internet. These plants are easily grown to maturity - insects can be seen captured by the leaves. Both of the two species are annuals. Cultivation as a somewhat dry desert plant has been tried, but they also seem to appreciate a good availability of water. Osmocote slow release fertiliser seems to be beneficial. An interesting feature of these plants is that the two halves of the stigmatic surface quickly close on each other with physical stimulation, presumably to avoid self pollination. It appears that the stigma surface of each flower will accept and retain pollen before the pollen is ready on the stamens in that same flower. Thus when pollen from another flower is deposited on the stigma by a pollinating insect the stigma snaps shut; similar in action to the VFT trap, effectively 'trapping' the delivered pollen (but not the deliverer). Ripe pollen is significantly prevented from reaching the stigma in its own flower. The grower can assist in the transfer of pollen from flower to flower, so that there will be more assurance of obtaining ripe seed pods for each following season. A small artist's paint brush is used for this. It should be dry and clean from any previous pollination activities. Touch the brush on the leaf surface to make the brush hairs slightly sticky - to stick together and retain the pollen better. The pollen is available from the stamens; situated in the top of the trumpet and behind the stigma area. Be careful to avoid touching the stigma when obtaining pollen so that it will be still open to receive pollen from a different flower. Take the brush to a different flower (on a different plant if possible) and gently touch the pollen-laden brush point between the two stigma halves just inside the top of the trumpet opening. You will then see the stigma trapping action take place. Perform this action as many times as is necessary to make sure that each freshly-opened flower gets pollen from some other flower. The seed should be planted in very early spring, to give the plant plenty of time to fully mature the seed pods (for your next-season seeds) before the cooler times of mid-autumn approach. Warm conditions are needed for germination. Germination of the seed is assisted considerably for both plants if a small portion of the hard outer covering of each seed is sliced off, near the growth end, with a sharp knife, and the seed then placed in warm water, and allowed to stand overnight. Many seedlings die from 'damping off'(a fungal infection). Both plants are annuals. Plant in a large pot, an 200 mm (8") pot at the very least, of normal plant potting mix (not peat and/or Sphagnum). They should be situated in the open air with maximum availability of sunlight. The leaf and stem portions of the two species are very similar. One well-known nursery-man in the Melbourne area called both of them 'potato plants' because of a similarity in the general appearance of the leaves to that vegetable plant - but that's where the likeness ends. The flowers of the two Devils Claw plants are very similar in form, both are a bent expanding trumpet shape. The flowers hang vertical initially, with the bend in the tube and a longer extension on the side further from the opening making the opening also vertical. But, they differ significantly on the inside colouring: the Ibicella flower has some bright orange spotted colouring on a golden-yellow background, while Proboscidea flowers have fake orange stamens drawn at the bottom on a pale lilac background strewn with a combination of purple spots. The mature seed pods of Ibicella have many protruding spikes (that make handling even more difficult), but Proboscidea seed pods are just plain and rough on the outside. There is a problem with the Devils Claw plants: one you will fully appreciate after you have grown any of them. This is the particularly obnoxious odour produced by the secretions on the leaves. You may even consider that Ibicella and Proboscidea are trying to attract carrion feeders. Then, if you touch a leaf accidentally, as you may do when transferring pollen from one flower to another, to ensure that pollen transfer is achieved, you will want to go and have a good wash to decontaminate your hands. Nevertheless, as you observe (from a distance) the large green leaves, the pretty flowers, and the large developing hooked seed-pods, you will still think them to be fascinating plants. There are a couple of stories on how the 'Devils Claw' plants came to get that common name. Firstly, the very sharp points on the ends of the two hooks of the matured seed pod can easily stick into the leg or whatever of an unsuspecting animal that walks too close to the plant. The animal will carry the seed pod around for some appreciable time, during which time the seeds might be shaken from the splitting seed pod by the movements of the transporting animal. The second story is a very bizarre continuation of the previous tale. Consider the poor animal with this terrible 'thing' stuck into some portion of its body; the creature doesn't know how to dislodge the offending item. The seed pod has a toothed membrane protruding from its top with the teeth pointing toward the hooks - making removal much more difficult when it is also in the fur of the animal. Because the wound where the hook(s) penetrated will be a continuously open one, infection will be able to gain access at the same point. The infection will spread, the body temperature of the animal will rise, and this fever will cause the creature to go to its water source for more and more drinks. Eventually the animal will die nearby - near to the water. This is probably what the plant desired - to have its seeds deposited near a water environment. We are then lead to believe that much later you will be able to see Devils Claw plants growing near the bones of the dead animal.
Nepenthes
This genus has about 80 species, and is probably the most spectacular of the carnivorous plants, that snake through the undergrowth and trees in the jungles of Malaysia and nearby islands, northern Australia, Indonesia, and Madagascar. With a wide variety of colour and shapes, Nepenthes are also the largest of the pitcher plants. The plants have two common names: Tropical Pitcher Plant, and Monkey Cup. The pitchers, borne at the tips of the leaves on tendrils, are shaped like tubes, tubs, or drums, and capture various small invertebrates (and the occasional small vertebrate). The ecology of the species is very complex, and many have symbiotic relationships with ants, spiders, and other creatures. These plants are plastic in appearance - the form of their pitchers is influenced by light conditions, temperature, humidity, the age of the plant, whether the pitcher is near the ground or high in the trees, and the particular species - determining the identity of a plant can be extremely difficult. These plants are endangered, mostly because of habitat destruction from slash and burn agriculture, together with export timber production techniques in various areas in south-east Asia. Populations are so small that collectors are having serious impact on the plants. Several species are extinct. One species, N. mirabilis, is a native of Cape York in Queensland - but not exclusively so.
Because of their size, shape, and care required, these plants are valued highly by collectors, and are avidly sought. Thus the genus is one of the CPs most involved in illegal overseas trade. For the collector, this is one of the most expensive genera - a single small plant is regularly priced at AU$200 or more - smaller plants of the more available species or hybrids can be much cheaper in price than this. Sadly, the high price of the rarer plants has produced a proprietary attitude among aficionados similar to the attitudes of some orchid enthusiasts. Herbarium sheets of extinct specimens have been stolen! There are cases of some growers breaking into and entering other growers' greenhouses to steal their plants! They have a long history, being first cultivated during 'Victorian' times in England, where they were a real favourite. These plants grow a long vine, 15 metres or more in height, and have pitchers up to 30 cm. long and 8 cm. wide. The pitchers are formed on long tendrils at the end of the leaves. They often have different pitchers on the upper and lower levels of the plant. The flowers of Nepenthes are rather peculiar, like a feather duster, and only appear on mature plants.
Cultivation
To keep these plants you need to provide humidity, good drainage, and warmth in winter. In Melbourne, N. khasiana is about the easiest for a beginner to keep - it will live through our cold winters if kept protected from strong winds. In Queensland many species of Nepenthes are grown outside. A suitable growing medium for Nepenthes has been found to be a mixture of 2 parts live Sphagnum moss mixed with 1 part orchid bark. This should not be packed down, but left fairly loose in the pot, so that it provides the adequate drainage that the plants must have. Nepenthes containers must never be placed in a water tray or other shallow reservoir, as is recommended for most other carnivorous plants. Watering must be only from the top of the container, must be regular, and must be frequent, particularly in the warm months. When watering, the leaves should be sprayed as well - these methods simulate the frequent rainfalls of their native tropical jungle environment.
However, most of the Nepenthes species are not a recommended carnivorous plant type, unless you can provide the needed humidity, and learn about the requirements of individual species. For those who have the space, this is a glorious genus. Unfortunately, you often find them languishing in mistreatment at botanical gardens. Growers divide the genus into two broad groups: the highland and the lowland species. The highland species are generally considered to be epiphytic, and desiring cooler night-time conditions. The lowland species are normally situated less than 1000 metres above sea level, where summertime minimum temperatures are around 21ºC (70ºF), together with a high humidity both day and night. In winter, minimum temperatures down to 16ºC (61ºF) can be tolerated. At these low altitudes the difference between day and night temperatures is mostly small. Maximum temperatures greater than 30ºC (86ºF) are common and readily tolerated, as long as the humidity remains high. The highland plants grow on the mountains of the tropical countries, usually higher than 1000 metres above sea level. Here the daytime minimum temperatures in summer are about 18-22ºC (64-72ºF) with high humidity, and at night they can be in the range 8-15ºC (45-59ºF) with much lower humidity. Winter temperatures in such locations will be slightly lower than in the summer. For most growers not situated in a genuine tropical location, the highland Nepenthes species are preferred, due it being relatively easier and cheaper to provide a reasonable growing environment for these plants. The Nepenthes hybrids may be derived from both highland and lowland parents, and so are then generally less demanding with their temperature needs. Hybrid vigour, described on page 37, is another factor making the Nepenthes hybrids fairly suitable and easy to accommodate within non-tropical locations. There is a little-known trick for use with Nepenthes plants. If you remove the tendril, together with embryo pitcher, from a leaf just before the pitcher starts to develop, the pitcher on the following leaf will be up to 50% larger than it would have become otherwise. An additional size-gain can be achieved if this is done to two tendrils, and the larger results seen in the third-in-line pitcher. However this should not be done on a regular basis, because you are robbing the plant of much of its nutrition-gathering capability. Try it a month before a show to obtain a large and impressive pitcher for the judges to see. It should be noted that there are some very tough species of Nepenthes that will tolerate relatively low humidity ,dryish conditions and cool temperaters.Highland plants such as N.ventricosa and some highland hybrids such as N.alata X N.spathulata can be grown succesfully outdoors in a temperate climate with moderate humidity.However in such a case pots with trays underneath are recommended and it is important not to over water.Nepenthes are one of the only two CP genera being dioecious - share this with Catopsis. That is, there are male and female Nepenthes plants. This state is uncommon but not rare in the plant world. Many images of Nepenthes are displayed on the Internet. For further horticultural information on this genus, some VCPS members are very knowledgable with good collections, and are happy to help interested people.
Cultivation Summary
Pots - 4 - 10 inch depending on the species.
Compost - Good quality sphagnum moss.
Climate - temperate - tropical depending on species.
Light - Bright shade to full sun.
Water - water from the top of the pot every few days.Do not allow the pot to sit in water.
Propagation - Cuttings,divison of clumps,seed .
Humidity - High .
Notes - highland species are much more cold tolerant.If grown in a greenhouse then fertilization is necessary for best results due to a lack of insects.Nepenthes rely heavily on nutrients from captured insects.
Pinguicula
The Pinguicula genus (common name - Butterwort) has about 80 species, and are flat, rosetted, greasy leaved carnivores, ranging in size from 2 to 20 cm (¾ to 8") in diameter. These plants are perhaps the most non-carnivorous looking CP. The leaves and plants are unspecialised, and the small rosette of leaves looks similar to (and no more remarkable than) an artichoke in a grocery. The trap is similar to flypaper: the leaves are covered with small glands that can capture small insects such as gnats. The leaves are also capable of limited movement. They are called Butterworts because of their greasy buttery surface. This 'greasy' surface is due to the secretion from almost microscopic stalked glands on the upper surface - in their tens of thousands. On alighting, small insects stick to this, are overwhelmed, and digested in a way very similar to the Byblis and Drosera plants. The Pinguicula plants are somewhat more challenging to grow than most. From the perspective of cultivation, the species can be generally broken into three broad groups. The first group contains the Mexican and South American epiphytic species, the second group contains the south-eastern US terrestrials, and the third group contains the European and boreal hibernaculum-forming species. Most other species could be fitted into these groups with various degrees of error. The south-eastern US species easy to grow, but those growers who employ terraria have difficulties with them. The hibernaculum-forming species can be grown as long as you provide them with a cold season - the dairy compartment of a refrigerator is useful for this purpose if your location doesn't have a cold winter.
There is a large amount of lore involved in the best planting media for the Mexican species. Many growers currently favour pure live Sphagnum. They grow in wet places, often with mosses in between wet rocks, on hummocks in swamps, or on wet sand. Many have smaller winter leaves while the plant remains fairly dormant. The Butterworts have beautiful flowers. These plants were hard to obtain, but are becoming more available now - particularly from various interested collectors in this society. Plants should be kept away from strong heat, wind, and heavy rain. Insects trapped on the greasy surface find the leaf edges begin to roll inwardly. As for Drosera plants, the rolling of the leaf puts more digestive leaf surface in contact with the insect, improving the efficiency of digestion. Digestive juices then decompose the insects.
Taxonomically they are in the same family as Utricularia and Genlisea. The conservation status of this genus is generally good. Those interested in this genus can obtain good advice from experienced growers in VCPS, or you can contact the International Pinguicula Study Group.(see the
CP societies page for details
Cultivation
There are many different types of Pinguicula ranging from alpine plants to tropical plants so cultivation needs to be adjusted accordingly.The method below will work with most of the easier to grow Mexican species.
Pots - 4 - 8 inch depending on the species.
Compost - Good quality sphagnum moss.
Climate - temperate - warm temperate depending on species.
Light - Bright shade.Full sun is ususally too harsh.
Water - water from the top of the pot every few days.Do not allow the pot to sit in water.
Propagation - Leaf cuttings - take the whole leaf including the base and lay on top of sphagnum moss as for a mature plant.Bury the base in the moss.Keep moss moist at all times.
Catopsis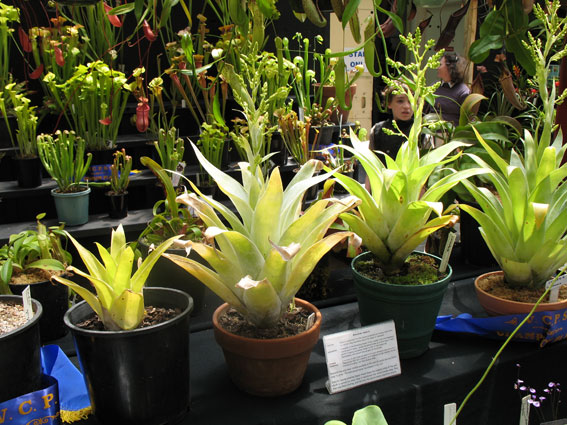 Catopsis berteroniana is a carnivorous Bromeliad that grows in Central and South America. The way it catches prey is similar to that of a pitcher plant but more primitive. There is a central well of water on the plant as there is in many Bromeliads.Insects will occasionally drown in this and be digested by the plant.The digestive process is probably mostly bacterial rather than with enzymes.Catopsis berteroniana is approximately 30 cm in height and width when fully grown which is a common size for Bromeliads and is an epiphyte (grows on other plants) as well. Catopsis berteroniana has a rhizome with offshoots, called pups. The pups usually develop before flowering and should be removed for replanting.The plant should flower after three years if grown from seed, or after one year if it started as a pup. The flowers are usually single-sexed,not showy and borne on long stems.Male and female separate plants are necessary to obtain seed in this case. The growing environment for Catopsis can be Sphagnum moss mixed with some orchid bark; or in a 50/50 compost mix of peat and coarse sand.Full sun is preferable. Fertiliser is of some benefit for this plant. The water tank in the centre of the leaves should be filled with clean water regularly. If scale insects are seen on Catopsis, do not use white oil; it will kill the entire plant.
Cultivation Summary
Pots - 7 inch
Compost - 2 parts spagnum moss,1 part peat moss,1 part coarse sand
Climate - Temperate - tropical
Light - Full - part sun
Water - water from the top once a day,keep central well filled.
Propagation - Plants eventually form "pups" which are smaller clones budding from the base.These may be carefully removed and potted up.
Humidity - high
Roridula
Roridula is a genus of two species from South Africa that were thought to be carnivorous. The plants are covered with sticky glands which capture insects, much like Drosera. It has been discovered that the plants do not assimilate the nutrients from the dead insect directly. The sticky material is a resin and not a mucous and doesn't contain any enzymes for digestion of prey. So, Roridula is not a carnivorous genus. But the species are often included in lists of CPs for historical reasons. The Roridula plants have a relationship with bugs in the genus Pameridea. Roridula captures plenty of prey with its sticky resin, but these are soon eaten by the Pameridea bugs that wait around on the leaves. Then, the excrements of the Pameridea bugs, which contains useable quantities of the nutrients needed by the plant, are absorbed by the leaves of Roridula. This total plant activity is said to be only sub-carnivorous, because it involves the symbiotic relationship of the plant and the bugs to complete the food-gathering process.
Sarracenia
The Sarracenia plants are a favourite among collectors because of their beauty and ease of growing, especially in southern Australia. They grow natively in North America, on the Gulf coast from Texas to Florida, and along the east coast from Florida into Canada. Most of the upright species look like clumps of erect trumpets sticking out of the growth area - hence the common name, Trumpet Pitcher, for this genus. The plant has no rapidly moving parts; only its natural growth. They are a passive trap in that they don't move to catch their prey, as with all other types of pitcher plants. The insects are attracted by the colour of the pitchers and their nectar secretion. Some species exude an amazing variety of chemicals, including digestive enzymes, wetting agents, and insect narcotics! The inside of a pitcher is covered in minute downward-pointing hairs making it extremely slippery; a foothold is impossible, and the space in there is far too restrictive to allow an insect to fly out. A fly meets it's doom, while more insects line up! There are eight Sarracenia species - and many hybrids. The species names are as follows: Sarracenia alata has a rounded lid - green with either no venation or some red veins. Its flower has near-white to lemon coloured petals. There are three forms. one produces green pitchers with inconspicuous veins, and another has bright red inside the lid and column - this can extend to the outside. The third form has fine hair covering the whole of the outside of the pitcher. Sarracenia flava is a yellow/green background colour, with a lid that folds back on itself. It is a fine species when at its peak in October/November (in Australia). Each plant produces a few large pitchers, and then from December on, the colour fades and the new pitchers become progressively smaller. The late-summer leaves are flat and uninteresting. One variety is plain green, another has a red throat patch, and another has a coppery tan colour on the upper pitcher and lid. The heavily-veined variety is red-veined all over, and a rare variety is deep red all over. The colour varieties are consistent and appear year after year, and are carried into the hybrids. The full colourings are present only on plants in full sunlight, and then only for a relatively short time. The scented large yellow flowers are impressive and attractive.
Sarracenia leucophylla the white topped pitcher, with striking red venation and bright red petals on the flowers of most of its forms. This plant has two distinct growing periods during the year: these are the spring and the autumn - there is little or no noticeable growth during the summer months. Of course, as for all Sarracenia, winter is their dormancy time. This tall-growing species has some main varieties with minor variations of vein colour and hood shape - making it a fairly varied plant. The most common variety has pitchers that are green at the base, but the hood and upper part of the pitcher is white with green and red veins. Another one has smaller pitchers that are dark crimson and the white area is reduced - it is as vigorous as the common form. A third variety is rare, and is less vigorous than the others - its flower is a pure clear yellow. Its pitchers are pale green and the tops white with some light green venation. It looks like an albino, except that there is some red pigmentation on the new growth and old pitchers. A further variety has the pitchers covered with very fine downward-pointing hair. Sarracenia minor. This stable species has a character of its own - interesting pitchers with translucent spots like windows (fenestration) on a coppery coloured domed hood. The hood covers the top and is open at the front. There are two varieties. The main one grows from 15 to 20 cm tall, while the other (originating from the Okefenokee Swamp) grows to twice the height with more slender pitchers that are harder in texture. This species makes its main growth in the spring and early summer. Its flower has yellow petals. It produces longer and stronger roots than the other Sarracenia species - this characteristic extends to some of its hybrids. Sarracenia oreophila has a green pitcher with a lid like S. flava, but has phyllodia (crescent-shaped non-carnivorous leaves) in winter. Some forms are veined while others are quite pale. Its flower has strap-shaped lemon coloured petals, smaller than S. flava with a sweet but weaker scent. Sarracenia psittacina is a prostrate plant - the pitchers have a lid shaped like parrot's beak, simulates a lobster-pot function for its trapping mechanism. An insect enters the horizontal pitcher through a round hole, and will hardly ever find the way out - it will probably go into the thin one-way part of the pitcher, and die. In the natural environment for this species the plants can be totally submerged in water for months at a time: the lobster-pot trap is at least as capable of catching aquatic prey as it is for trapping air-breathing creatures when above the water level. Its small flower has red petals, produced on a tall stem. Sarracenia purpurea is a prostrate plant - green to maroon depending on sunlight. Plants of his species have a hood that is meant to catch rain water, and keep the pitchers substantially filled. The insects drown in these pitchers. There are two subspecies.
Sarracenia purpurea ssp. venosa. This southern plant has large pitchers that are finely hairy on the outside. There are some colour forms. The more common one, when grown in full sunlight, has green pitchers with purple venation and a large wavy-edged hood. Another form has deep reddish purple pitchers, especially in winter. Other varieties have various types of enlargement of the nectar roll of the pitcher. The flowers of these red-coloured plants have bright red petals. One yellow/green form has no red venation or red colouring, and yellow petals on its flowers. Sarracenia purpurea ssp. purpurea. This northern plant has pitchers with a smaller, less frilly hood. Their outer surface is slippery smooth. In full sunlight the pitchers are dark red coloured. The flower colour is maroon. One yellow/green form, S. purpurea ssp. purpurea f. heterophylla, has no red venation or red colouring, and yellow petals on its flowers. Intermediate forms, which have pale pitchers with some red venation, produce orange flowers. Sarracenia rubra. This is the most variable of the Sarracenia species, with five subspecies. The species has two separate growing seasons during the year - these are in the spring and the autumn. In the autumn the pitcher growth is larger and considered much more representative of the subspecies as appropriate. The summer is a time when there is very little growth. Sarracenia rubra ssp. rubra is the typical plant having slender pitchers with dark veins. It seems to favour a drier compost than the other species. Sarracenia rubra ssp. jonesii differs from the typical plant by having taller pitchers that are expanded at the top. Three colour forms are known. One, the heterophylla form, has pitchers of a pure yellow/green, and has yellow flowers. Another has is a pale-looking intermediate with maroon flowers. The third is the darker typical form. The flowers of each form are sweet-scented. Sarracenia rubra ssp. gulfensis has taller stout pitchers that are a dull reddish colour with faint venation. It can grow as tall as the larger Sarracenia species, grows easily and flowers freely. The flower is similar to the typical S. rubra. Sarracenia rubra ssp. alabamensis has pitchers that are generally pale, but with a distinct yellow colouration of the pitchers. In the autumn these pitchers are very tall and expanded. The deep red veins can be seen on the inside of the pitcher and column but less noticeable on the outside. The flower is similar to the typical S. rubra. Sarracenia rubra ssp. wherryi resembles S. rubra ssp. alabamensis, but seems to be a bit more active over summer. It is easier to grow, and its pitchers are a bit darker than ssp. alabamensis. The flower is similar to the typical S. rubra. The Sarracenia species can be divided into two distinct groupings - the prostrate plants, where the pitchers lie on the ground for all or most of their length (S. purpurea and S. psittacina comprise this group), and the tall upright plants (the other six of the above-mentioned species). The upright species of Sarracenia can grow up to a metre tall (S. minor and S. rubra are smaller versions of this), and would then have large openings. The lids of the upright pitchers are meant to prevent rain from getting into the pitchers. In these plants the digestion is a dry bacterial process.
Cultivation
Pots - 4 - 10 inch depending on the species
Compost - A 4:1 mixture of good quality sphagnum peat and washed coarse sand
Climate - cool temperate - warm temperate depending on species
Light - full sun with a little shade
Water - sit in a tray of soft or rainwater water 3cm deep except in winter.In winter keep the compost moist
Propagation - Division of rhizome,seed is also used when large numbers are needed but takes longer to get a mature plant.
All the species of Sarracenia may be grown outdoors in Melbourne which has a temperate climate, as our conditions are similar to their native environment. These plants expect, and benefit from, the cold conditions of winter, in order to have their dormancy period - the compost should be kept moist at this time. Sarracenia plants should be protected from the strong winds, however. In summer the plants should not be exposed to the hot afternoon sunlight - but do require good lighting conditions to produce their red colouring. Spring brings new growth, and if the plant is mature (2 to 3 years) should flower. The flowers are on long vertical stems and may be as large as a man's fist. Dead brown pitchers should be trimmed off - especially just before spring.
Rhizome propagation technique
The following practices are recommended for the propagation of Sarracenia plants: pots filled to level with the top with Sarracenia compost. When dividing rhizomes use a sharp knife wherever possible and dust the cut or broken ends with a fungicide powder. Plant the rhizomes so that any cut ends are below the surface of the compost. 2 cm of water in the tray during winter; 3 cm (1¼") deep the rest of the year. Use large pots to obtain large plants. Plug the drainage holes inside the pots with a permanent water-passing substance, like rock wool or similar, so that the compost cannot escape from the bottom of the pot. And when is the best time of the year for dividing and/or repotting Sarracenia plants? Any time of the year. Admittedly late winter and very early spring are usually recommended, because there is a difficulty of causing damage to very tender growth of flower stems and pitchers at other times of the growing season. That's okay, but if one is prepared to be very careful and treat the new growth with the respect it deserves, there is no perceived problem in doing the job at any time - whenever the need is observed. In hot times, like summer, work in the shade and it is vital that the process be completed quickly with plenty of water on hand to keep the exposed roots moist at all times, and with the new compost fairly wet. When using the methods described above, there is little risk of losing plants to fungus infection or dehydration. A further great fascination for the Sarracenia collector is the ever-increasing number of beautiful hybrids. The species in the Sarracenia genus are easily crossed. Desirable qualities of colour and form can be combined by cross-pollination to produce exciting new plants. Many breeders have had success in producing desirable hybrids. All the species are endangered, because of wide-scale habitat destruction - S. purpurea less so. Recently, pitcher collection for the floral arrangement industry is posing new problems. Field collection of rare forms by collectors has wiped out some stands of plants. These plants require a winter dormancy period of decreased moisture, light, and temperatures. The species S. oreophila, S. rubra ssp. jonesii, and S. purpurea ssp. purpurea expect cold weather, even frosts, during the winter.
Stylidium
This genera is well known for its unusual moving flower parts giving it the common name of "Trigger plants". It is a large genus (approximately 300 species) most of which are endemic to Australia.The flowers are curious and have a moving touch sensitive part that dusts anything close to the flower with pollen.This is a way to ensure that the potential pollinating insect definitely leaves the flower with pollen.Some species whithin the genus are considered protocarnivorous or carnivorous due to the presence of glandular trichomes on the plants that can trap ,kill and digest small insects.Whilst they are close to satisfying the definition of carnivory it is certain that these plants are not as strongly carnivorous as genera such as Drosera,Nepenthes and Pinguicula.
Philcoxia
At least one member in this genus has recently (2012) been discovered to be carnivorous,Philcoxia minensis.It grows in the Brazilian Cerrado region in sandy soil.The plant itself is rather small resembling a spindly sundew (Drosera) or bladderwort (Utricularia).It has sticky leaves just like a sundew but these are growing underground.They are primarily designed to catch very small animals such as nematodes which stick to them.The trapping style is like a cross between sundews and bladderworts and the above ground part of the plant resembles a bladderwort more than any other type of carnivorous plant.
Triphyophyllum
Triphyophyllum peltatum is the only species in its genus and a plant that is not common in cultivation. In the first part of its life cycle it is not carnivorous and has strap like leaves approximately 35cm long.Later it produces long upright glandular leaves in the fashion of the related Drosophyllum genus.After that it produces a climbing stem with short non carnivorous leaves which eventually produces flowers. This plant is from western tropical Africa (Sierra Leone, Liberia). Because of the extremely high rate of deforestation and political instability in these countries, it is possible the plant will become extinct in the wild.
Utricularia
This extraordinary genus (common name is 'Bladderwort') contains the most complicated and devious trap of all the carnivorous plants, and is surely one of the wonders of the botanical world. The above-ground parts of the plant are usually inconspicuous and always non-carnivorous - the leaves are grass-like, oval, or strap-shaped, and are commonly very small (less than a cm long); although some species are much larger. These plants do not have roots. Many of these plants grow in Australia, and can be very easy to grow.Many types such as Utricularia bisquamata often become weeds in collections of carnivorous plants. There is a great variety of plants in this genus: fully aquatic species (live in water only), terrestrial (live in sandy, peaty, wet soils), and epiphytic species (living wholly in trees; in various mosses, such as Sphagnum). The carnivorous action happens underground, in the water-soaked medium. Each plant produces a great number of bladders (utricles), a few to several mm in size, which serve as the mouths of the plant. These bladders have trap doors, and when a free-swimming organism bumps into long hairlike organs attached to the trap doors, the hairlike organs lever the door ajar. The pressure inside the bladder, having the water removed, is lower than the surrounding water, so the partial vacuum instantly sucks the organism inside the trap. The trapdoor resets and the plant begins digesting the creature that has no chance to escape, since it is drawn into the trap in as short as 1/30 of a second.
This genus contains about 250 species, and occurs throughout the world, in every continent other than Antarctica. Species have pioneered many habitats, including wet ground, lakes (as freely floating aquatics), epiphytic conditions, seasonal deserts, and have even been found living in the pools of water that accumulate at the center of carnivorous Bromeliads! Except for a few species of very localised range, few are particularly threatened, although some are already extinct. The flowers of Utricularia are usually small, but make up for their small size by a wild display of colours, variety and beauty, in the spring. Several useful articles on the taxonomy and cultivation of Utricularia are on the Internet. Recently the carnivorous plant genus Polypompholyx was deemed a subgenus of Utricularia. With so many species in so many habitats, exhaustive cultural hints would be quite lengthy. Listed below are some of the more common ones.
Cultivation Summary for semi aquatic temperate Utricularia (eg U.dichotoma)
Pots - 4-5 inch squat
Compost - one part river or propagating sand and two parts peat
Climate - Temperate
Light - Part sun to bright shade
Water - keep water level with the top of the pot.Replace water completely every month.
Propagation - Division of clumps
Cultivation Summary for aquatic species (eg. U. gibba)
Pots - grow in a water tank such as an aquarium about 20cm long or more.
Compost - have a 1cm layer of peat moss on the bottom and fill with soft water.
Climate - temperate or tropical
Light - Part sun to shade.
Water - keep water level high all year round.
Propagation - Division of clumps.
Notes - Make sure to control algea by changing water every few months..
Cultivation Summary for South American epiphytic species(eg. U. reniformis)
Pots - 8 inches.
Compost - sphagnum moss.
Climate - temperate or tropical
Light - Part sun to shade.
Water - keep compost moist but not wet,water from the top once a day.Keep a bit drier in winter.
Propagation - Division of clumps.
Humidity - Likes high humidity.
The unusual tuberous bladderwort U menzeissi can be grown in the same way as tuberous drosera with which it grows in the wild.
Carnivorous Fungus
Many people thrill to the fact that some fungi are effective at trapping nematodes and consuming them. Indeed! But this is a carnivorous plant society, and the fungus, animal, and plant kingdoms are separate and quite distinct.
Brocchinia and Catopsis
There are two genera of Bromeliads indicted of carnivory; Catopsis and Brocchinia. Catopsis berteroniana is a nondescript epiphyte found in Florida and tropical South America. Insects are caught in its leaf axils and supposedly digested. The Brocchinia genus contains a few species, some of which are included in the list of carnivores (B. reducta, B. hechtioides). Since the early 1900s, there have been many claims of carnivory among tank Bromeliads. However, until recently, all attempts to confirm these claims have been in vain. Brocchinia reducta, a native to Venezuela and Guyana in South America was the first of the Bromeliads in which carnivory has been confirmed. The plant is a common inhabitant of highly acidic moist sand savannahs and bogs above 1200 metres in the Guyana Highlands - an area of warmth and high humidity. There, it shares its habitat with numerous CPs (Drosera, Utricularia, Genlisea, and Heliamphora heterodoxa).
Brocchinia reducta is a terrestrial plant 20 to 45 cm tall with bright yellow-green leaves forming a vertical cylinder. The inner surface of this cylinder is coated with a fine waxy powder that easily exfoliates, thus making escape difficult for insects that have ventured too far down the tube. The base of the cylinder contains a highly acidic fluid that emits a nectar-like odour similar to that produced by H. heterodoxa found nearby. This odour presumably plays a role in attracting insects, especially ants, which are found in large numbers at the base of the trap. There are no digestive glands in this plant. The soft parts of the insect bodies are broken down by bacteria in the tank water. B. reducta fulfils the two requirements necessary to be classified as carnivorous. First, it has adaptation for active prey attraction (bright colour and nectar-like odour) and second, it is able to absorb nutrients from animals juxtaposed to its surfaces, and presumably benefits from the nutrients thus obtained. The absorption of the results of this bacterial action is performed by gland-like structures in the leaf bases and have been shown to absorb nutrients (amino-acids) at a high rate. Use of a compost of 50/50 peat and coarse sand, together with having the pot sitting in a water tray, have been found okay. The B. reducta plant produces many small white flowers on a stem up to 60 cm (24") tall, during the spring or summer. The tank collects rainwater, or should be topped up manually - insects fall into this and drown. The inner surface of the tank leaves is waxy and very slippery, so there is no foothold for the unwary nectar-seekers. They have difficulty flying from the cylindrical structure, and gravity takes care of the rest of the trapping for the plant. As for the various pitcher plants, there are no parts that move as a mechanism for trapping - it is a pitfall trap.
Cultivation Summary
Pots - 7-15 inch depending on maturity
Compost - 1 part peat moss,1 part coarse sand
Climate - Temperate - tropical
Light - Full - part sun
Water - Stand pot in water in 1cm of water year round.Keep central well filled with fresh water.
Propagation - Plants eventually form "pups" which are smaller clones budding from the base.These may be carefully removed and potted up.
Humidity - high
Dionaea
Dionaea muscipula (common name - Venus Fly Trap) is probably the most commonly known and most intriguing of the carnivorous plants. It is the only species in the genus and has a limited range in the wild;moist to wet peaty and sandy areas in North and South Carolina, USA. Unfortunately, its endangered status does not stop collectors from risking high fines and field collecting them. Insect capture is performed by attracting the insects with nectar to bilobed leaves, which snap shut upon the prey.The speed with which this happens is quite astonishing (in the order of 0.1 second) and is quite spectacular when seen for the first time.The rapid movement of the trap is thought to be caused by a rapid change in water pressure whithin the leaf.The sealing of the leaf and subsequent opening later on is thought to be a growth phenomenon. It's colours attract insects also. The trap has 3-4 (occasionally more) trigger hairs on each side of the "V" shape, and if two or more of the hairs are touched, or a single hair touched more than once, the trap will quickly close - almost.See video below.
The Venus fly trap,the incredible counting plant
Along the edge of each side of the trap is a row of green fingers. When the trap has completed the first rapid movement of closure, there is still a gap between trap halves, and the interlacing fingers are like bars of a gaol cell.This allows very small insects which are not worth the trouble to digest to escape. For economics of trap usage and time, the plant would rather not waste its resources 'processing' a tiny insect, but would prefer to open quickly and attempt to catch larger prey. The plant is able to detect the presence or non-presence of an insect in its partly closed trap.For example if the trap is triggered by plant material falling on to it digestion will not begin.So, if a captured insect cannot squeeze between the 'bars' of its 'death row' cell, the trap will close totally on it - and digestion will commence. Even in smaller plants, the trap can still capture small insects. After the trap fully closes, it squeezes tighter, and digestive acids and enzymes are secreted to 'break down' the insect, so the results can be absorbed. Each single trap will open and close about 4 times in its life, then blacken and die.
Each plant has a bulb just underneath the soil surface, and approximately six traps that grow to about 3cm across.The bulb helps to regulate water to the plant and enables it to withstand some dry periods.The rhizome or bulb grows at one end and dies off at the other.It tends to branch in summer and produce ofshoot plants which can be removed and repotted.This is the fastest way to obtain mature plants,if you need greater numbers then you can use seed which takes longer (several years) to mature under normal conditions.In cultivation old traps should be removed to allow new traps to grow in its place. Flowers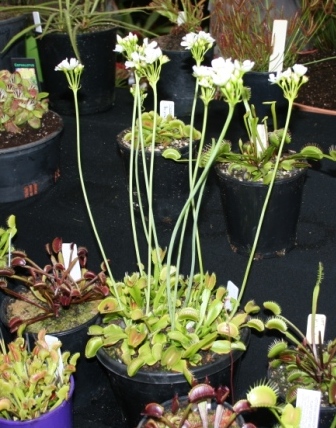 appear in spring, and are white, on a 15-30 cm (6-12") vertical stem. There is a widely-held view among CPers that the production of flowers causes a significant reduction of vigour in these plants. VFT growers usually remove all the flower stems as soon as they are noticed during the whole of spring and early summer. Then, beginning in January (mid-summer in Australia), when the plants have gained substantial size and vigour, and only if the grower wishes to obtain fresh seed, the flower stems are allowed to fully develop and produce seed. Using a stick or your finger to activate the trap will cause the trap to close and re-open after a short time ... BUT BE WARNED!! If you continually poke and prod the traps, the plant will surely die. The plant grows its traps to catch and digest an essential part of its nutritional requirements. Falsely triggering the traps frustrates this process. Imagine how long you might last if your human stomach was gone - or made totally unusable by some meddling outside influence! Yellowing or brown traps and petioles should be removed, using fine-pointed scissors, to assist in the prevention of fungus infection of the plant, and to make room for new growth of traps. Provided the VFT plant's basic requirements of: compost (2:1 mix of peat and coarse sand), moisture (sitting in a water tray, with the level reduced considerably in winter), humidity (should be kept fairly high if possible), and lighting (high lighting, full sun mostly, is beneficial for vigour and red colouring), for growing the plant are met, it is quite easily cultivated. Stanley Rehder, representing The Flytrap Company in Wilmington, North Carolina, is a VCPS member at the time of issue of this publication. The Venus Fly Trap native environment is totally contained within a radius of only 50 miles from Wilmington. It inhabits savannas and bogs where the soil remains moist and poor in nutrients. In a brochure received
from Stanley there was a statement that the red colour on the traps develops when the compost is low in nutrients and the plants are in bright light - for the colour forms that can be red coloured. There was also a recommendation that VFTs like bright light - full sun is best - and the best temperature is about 27°C (80°F). These plants prefer a humidity in the range 70 to 90%. The preferred soil is acidic (pH 5-7). Do not use lime, bonemeal, or other similar additives to the compost - they grow naturally where the mineral content is very low. VFT seeds are viable up to one year and very few are viable after that time. Germination takes about 20-40 days at temperatures of 21-27°C (70-80°F). Sow the seed on the surface of the moist compost and place the pots in bright light. Transplant the seedlings after 3 or 4 trap leaves develop. Mature plants propagate by division or by leaf cuttings - place whole leaf onto compost. There are many colours and minor shape variation forms of VFT in various CP collections and available from nurseries for the interest of CP enthusiasts. The petioles can be long and thin, or short and wide. The trap colouring can be plain green, yellow, and varying amounts of bright red. Some of the colourings are seen only when the plants are kept in a warm, humid, high-lighted situation, where there is also a large variation between daytime and night temperatures. The fingers around the edges of the traps can vary in colour and length; and vary in thickness from very thin (hair-like), to the dentate form where they are triangular in appearance. The forms having substantially maroon colouring of their petioles and traps (both inside and outside), are currently subject to Plant Breeder's Rights (PBR) protection in most countries of the world. PBR is granted where the applicant has developed a distinctly different plant by his or her propagation of the genus, or is the first to introduce that form into the general commercial environment - it is just like owning the copyright on the plant form. (The PBR approvals were granted, or are undergoing trial, in Australia in each case.) These plants must not be sold, or propagated with a view to selling, without having a licence from the PBR holder to do so; and a royalty must be paid to the PBR holder for each plant sold. This is enforceable under the PBR Act, and very heavy fines can be levied in default. As at November 1996, D. muscipula "form Royal Red" has been granted full PBR approval; and the two plants D. muscipula "f. Claytons Red Sunset 96/206" and D. muscipula "f. Claytons Volcanic Red 96/207" are under trial for the granting of PBR approval. Why the name 'Venus Fly Trap'? Those hopeful for tabloid headlines have suggested that Venus Fly Traps arrived on meteorites. But for the origin of the botanical and common names we must look to the puritanical, yet bawdy, colonial botanists who explored the new world. A recent historical account has revealed that the form, attractive properties, and amazing behaviour of Dionaea muscipula, reminded them of female genitalia. (Aphrodite's Mousetrap, 1990, Nelson and McKinley). (Dione was the mother of Aphrodite (also known as Venus), the Greek goddess of love.) Sorry, we didn't make this up, you'll have to level all the blame on those early botanists.
Cultivation
Pots - 3 - 5 inch
Compost - A 4:1 mixture of good quality sphagnum peat and washed coarse sand.Never use standard potting mix
Climate - temperate
Light - at best in full sun ,will also grow in bright shade
Water - sit in a tray of soft or rainwater water 1cm deep.
Propagation - Division of clumps,seed can be used to get large numbers but takes longer to get mature plants.
Notes - This plant stops growing in temperatures above approximately 33C so it won't do well in the tropics.Also it needs a winter dormancy (temperatures 0-14C) for long term health so is not a good indoor plant in most cases.The red forms are more suitable for hotter climates.
Capsella
Capsella bursa-pastoris is a widely naturalised European mustard (Shepherd's Purse). When moistened, the seeds of this plant release an adhesive compound to which small aquatic animals stick. It is not clear if this is a real connection indicating carnivory.
Aldrovanda
This is a free-floating aquatic plant found through parts of Europe,Africa, Asia, and Australia - common name is the Waterwheel Plant. It is closely related to Dionaea muscipula (Venus fly trap), with which shares many attributes: such as the trapping mechanism.Whereas Dionaea has three trigger hairs on each side of the traps, Aldrovanda has about twenty.The traps prey on tiny fresh-water creatures, such as water fleas and daphnia. When the trigger hairs are touched the trap closes most of the way in about two hundredths of a second - total closure then takes some hours (a closure habit much like that of the VFT). The traps can open after several days, depending on the size of the creature therein.Also like the Venus Fly Trap, Aldrovanda vesiculosa is the only species in its genus (monotypic). From the common name, the plant consists of a series of wheels where the spokes (the leaves) have small traps on the tips. Each wheel has eight spokes with a trap at the end of each spoke.The traps are protected by several spikes and this helps to stop them breaking off or closing unnecessarily when the plant is bumped. A whole plant may have up to a hundred traps.The mature plant is based on a stem about 10cm long which has the whorls of traps along it every few cm.The plant grows from one end and disintegrates at the other.During winter where the water temperature falls below about 17ºC (63ºF) the plant will form a winter resting bud and sink to the bottom of its water habitat, and resurface when warmer times arrive. When conditions are favourable in the spring or summer (when the water temperature reaches 25ºC (77ºF)) Aldrovanda produces a single small five-petalled flower on a short scape. Aldrovanda can grow well with moderate care in an aquarium where the water is aerated using a normal fish air pump, with water fleas or daphnia added to provide a food source. Other aquatic habitats may be experimented with as required if plants can be replaced easily when failures occur.